Using food to prevent prostate cancer sounds too easy, doesn't it?  Research published in the Journal of the National Cancer Institute confirmed that it really can be as simple as that.
Broccoli, cauliflower, rutabaga, arugula, radish, cabbage, Brussels sprouts, bok choy, greens, watercress, turnips, and kale are members of the cruciferous vegetable family.  Scientifically, they are called Brassicaceae, which translates to "cabbage."  They are readily available in most markets, inexpensive, and offer a fantastic array of health benefits.
Researchers with Cancer Care Ontario evaluated more than 1,300 male patients based on diet and found that cruciferous vegetables in particular lowered risk for an aggressive form of prostate cancer.
Of 137 foods on the questionnaire, broccoli and cauliflower seemed to have the greatest impact on overall risk but all the leafy greens showed significant ability to prevent prostate cancer.
Authors with the study stated, "Aggressive prostate cancer is biologically virulent and associated with poor prognosis.  Therefore, if the association that we observed is ultimately found to be causal, a possible means to reduce the burden of this disease may be primary prevention through increased consumption of broccoli, cauliflower, and possibly spinach."
Incredible Health Benefits of Cruciferous Vegetables
This vegetable family has even more to offer!  They are excellent raw or cooked, useful in all manner of meals, and easy to prepare.
5 Benefits of Leafy Greens
1. Weight Control:  They are packed with powerful nutrients such as vitamins A, Bs, and C, folic acid, and fiber.  They are low in calories so they are an ideal nutrient-dense food if you're looking to lose weight or maintain a healthy body weight.
2. Antioxidant Bioavailability:  Your body loves these veggies and absorbs most of the nutrients they offer.  This is especially important in regards to their vitamin C, manganese, beta-carotene, and lutein.  Your digestive tract uses it all so you get the full impact.
3. Cancer Fighter:  Aside from preventing prostate cancer, there are many studies linking cruciferous veggies with a lower risk of breast, uterine, lung, liver, colorectal, and cervix cancer.  In fact, 70% of the scientific community's research on cruciferous veggies mention the link to lower cancer risk.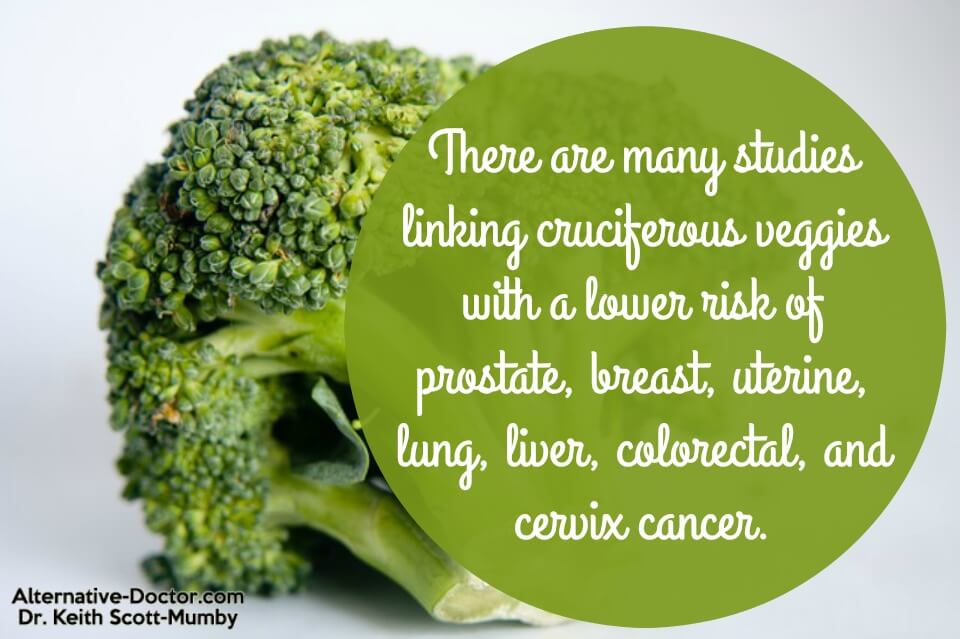 4. Obliterates Oxidation:  With the amount of nutrients found in this vegetable family, it is no surprise that 1-2 cups per day drastically reduced patient oxidation by 22% overall.  In a comparison to multivitamin impact on oxidation, researchers saw less than one-half of 1% reduction in oxidation for those taking a supplement.  These vegetables are better than any vitamin.
5. Heart Health:  If you want to steadily lower the heat of body wide inflammation, the vitamin K and omega-3s in cruciferous vegetables is definitely the way to go.  Chronic inflammation due to diet, stress, and poor lifestyle habits is a major bio-marker for heart disease and every other major condition.  These foods can help to cool down inflammation and fight the free radicals that lead to heart attack and stroke.
There are so many other great benefits of cruciferous vegetables such as the fiber that helps keep your digestive system healthy and moving properly.  They are abundant in vitamin A which is excellent news for preserving your vision as you age.  The heavy nutrient content in general is a good way to boost your immune system to help you fight illness from the inside out.
If you are looking for foods that taste great, don't cost a small fortune, and are available just about everywhere, look no further than broccoli and the rest of the cousins in the cruciferous veggie family.
Their ability to prevent prostate cancer is just the beginning.
The post Could Broccoli Prevent Prostate Cancer? appeared first on Alternative Doctor Dev Site.