George Barnard Shaw wrote, in the preface to his stage play The Doctor's Dilemma: "That any sane nation, having observed that you could provide for the supply of bread by giving bakers a pecuniary interest in baking for you, should go on to give a surgeon a pecuniary interest in cutting off your leg, is enough to make one despair of political humanity. But that is precisely what we have done."This wry observation is as true now as it was when made. Indeed, being cynical, the medical profession in the USA and elsewhere is driven totally by what makes money, not what makes sense.
But what about giving doctors a pecuniary interest in putting you down? Voluntary euthanasia, as it's called. Following Shaw's line of reasoning, you would expect the bodies to start piling up!
Well, that's exactly what has happened in some territories. In Holland today—this is incredible, read it slowly—one in 33 people are taking their own life in "assisted suicide". It makes me shudder with disbelief.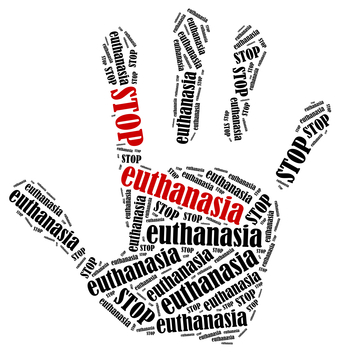 In the Netherlands, a right-to-die law was passed in 2002 and it seems everyone knows of someone who has lost a loved one through a mercy killing. Thousands a year are choosing to opt out with a lethal chemical bullet.
It's Shaw's prediction coming true. Euthanasia is now big business; it's fast cash, easy pickings. Statistics are rising and those who are engaged in this grizzly business (disguised as humanitarianism) are rubbing their hands with glee, no doubt.
It's Already Crazy
Vivien drew my attention to a sad story in Holland, in which a 47-year-old woman had physician assisted death, because she had intolerable ringing in the ears (tinnitus). She was, apparently, a gifted musician. She was told her condition cannot be cured.
Two things startled me on hearing this. The first, I admit, was GBS's words which came flooding into my mind. Making a profitable business out of assisting people to die? You've got to be kidding. The next thing you know, they'll be advertising on TV, "Bump yourself off now… Best rates here…"
Secondly, was the fact that tinnitus is really, REALLY easy to solve. It's a food or chemical allergy 97% of the time. This is a case of medical ignorance translated into medical murder.
The woman left behind two teenage children: a boy of 13 and girl of 15. I sadly ask myself: what supposed doctor of healing can engage in such a dastardly act, against those children, against Nature and against the woman herself?
Another 54-year-old woman with personality and eating disorders is reported to have received lethal injections at a 'Life End' clinic in Amsterdam. Indeed, according to Holland's health minister, several right-to-die physician assisted deaths have involved psychiatric patients.
That should NEVER happen.
Yet the number of mentally ill patients killed through euthanasia has trebled in the space of a year, official figures reveal. In 2013, a total of 42 people with 'severe psychiatric problems' were killed by lethal injection in Holland compared with 14 in 2012 and 13 in 2011.
Even physically healthy people suffering from depression have had physician assisted death, under Holland's right-to-die laws. THAT IS NOT MEDICINE.
Attractive Ms. Olthius, kicked off this planet by doctors, leaving 2 teenage children.
Euthanasia is Spreading. Watch Out
OK, just Holland; the Dutch are weird, legalized cannabis and all that stuff… you tell yourself. You're wrong. The right to assisted suicide is now legal in Oregon, USA, and is being debated even as I write in the UK.
On October 27, 1997 Oregon enacted the Death with Dignity Act, which allows terminally-ill Oregonians to end their lives through the voluntary self-administration of lethal medications, expressly prescribed by a physician for that purpose. The key words there are self-administration. The doctor is not allowed to end a life, only provide the means.
In the UK, Lord Carey, the former Archbishop of Canterbury, author Ian McEwan and a number of eminent doctors have signed a letter to the Daily Telegraph saying that any refusal to debate the issue in Parliament would be 'heartless'.
The signatories to the letter also include author Julian Barnes, philosopher A.C. Grayling, and show business stars such as Hugh Grant, Eric Idle, Sir Patrick Stewart and Jo Brand. They say: ''If there is not enough time for the Bill to complete its stages before the General Election then it is imperative that Parliament continues this important debate afterwards.''
The call for action from all political parties follows the tabling of a Bill by Lord Falconer, the former Lord Chancellor. If it passed into law, it would permit doctors to prescribe fatal drugs to patients with no more than six months to live, and a 'clear and settled' intention to end their lives.
Under current UK law, helping someone to take his or her own life can carry a jail sentence of up to 14 years.
If only they would listen to the words of Professor Theo Boer, who supported euthanasia and oversaw the law when it was introduced in Holland, but who now says that it would lead to widespread killing of the sick.
'Don't do it, Britain,' Boer urged in 2014. 'Once the genie is out of the bottle, it is not likely ever to go back in again.'
Killer Hit Squads Roam The Country
Holland was the first country in the world to allow euthanasia after a law was pushed through by the radical and liberal health minister Dr Els Borst, against strong opposition from Holland's Catholic and Calvinist churches incidentally.
Most Dutch people backed the new right-to-die law, which is subtly different from the one proposed in Britain.
In the UK, terminally ill people would be prescribed a lethal dose by a doctor but administer it themselves. In Holland, once permission is gained from the state-sanctioned ethics committee — the killing (I use that word advisedly) will be done by a doctor.
The Dutch ignored warnings that killings would become commonplace, yet now Dr. Boer insists, assisted suicide has 'turned a last resort into a normal procedure'.
The legalization of euthanasia has led to 'Life End clinics' being set up where people, if faced with a reluctant local doctor, are helped to commit suicide.
Indeed, mobile hit squads of euthanasia doctors operate across the country who will kill people if their own GP refuses on ethical grounds. For money, of course!
It's all about money.The State Machine
Here's the point, I think. Of course governments will sanction this nonsense. They will see it as a common convenience to get rid of sickies and troublemakers. It will save money: the chronically sick are notoriously expensive to look after.
The worry would be that, as the movement grows, the State will start ordering euthanasia for the public good, instead of for the individual's welfare. I can easily foresee the time when a certain upper age limit is set for all and when you reach that, you get a little bottle of cyanide with your name on it.
I'm not just being facetious.
And don't think bureaucrats have any humanity. It will be no use trying to plead for another six months, just so you can see your grandchild born.
I say let's kill the concept of physician assisted death, not people. Let's try to force reforms on the medical profession so that they begin to understand humanity and healing; so that they learn many simple holistic measures will result in a fast recovery.
And I would have doctors facing a mandatory jail term for telling any patient, ever, that their condition is "incurable".
There is no condition which I have not seen recover at some time or another. People at death's door, who could not possibly see out the day, have got up and walked away and continue living happily for years afterwards.*
Nothing is "incurable". So on what grounds do doctors insist "there is no cure"? To cover their own incompetence and stupidity.
References:
Daily Mail, UK, 1 Jan 2015. http://www.dailymail.co.uk/news/article-2893778/As-debate-assisted-suicide-dispatch-Holland-thousands-choose-die-year.html
*Anita Moorjani, Dying To Be Me. Hay House. Jan 2014. 978-1-4019-3753-9
The post Euthanasia Is A Bad Business appeared first on Alternative Doctor Dev Site.