Do you have problems from fatty liver disease? Are you sure?
The liver isn't as interesting to most people as the brain or the heart but, with the help of your kidneys, it removes 99% of the toxins inside you.
Your liver prevents the pollutants from the food you eat, the air you breathe, and waste from overwhelming your system and shutting you down permanently.
What is Fatty Liver Disease?
There are two types of fatty liver.
The first is alcoholic liver disease (ALD) that results from abuse of alcohol. Contrary to popular belief, you do not have to be a lifetime heavy drinker to damage your liver with alcohol. One night of "binge" drinking can damage this crucial organ.
Your risk of ALD is even higher if you eat poorly, are obese, or have been diagnosed with hepatitis C. More than 90% of those who drink more than recommended (one alcoholic beverage a day for women and two for men) have a fatty liver.
The second form of liver disease is non-alcoholic fatty liver disease (NAFLD) and it's the most diagnosed liver condition diagnosed in the United States. People who drink little or no alcohol can still sustain liver damage. It's exactly what it sounds like – there is too much unhealthy fat in the liver. If your liver is more than 10% fat, you have NAFLD.
It's something that affects more than 80 million people in the U.S. alone. Experts agree that many more people may suffer from fatty liver disease problems but not be aware of it. More than 25% of the world population suffers from NAFLD and the costs are out of control. American medical costs to treat the disease exceeds $103 billion annually.
Money is a motivator to getting things done and fatty liver disease problems are resulting in far more than physical trouble. Researchers with Inova Fairfax Hospital in Virginia evaluated the growing cost of NAFLD worldwide. The findings were published in the journal Hepatology.
Lead author, Dr. Zobair Younossi, explained the results, "Given the growing epidemic of obesity, diabetes, and NAFLD, this study brings to the attention of policymakers, providers, pharmaceutical companies, payers, and patients the critical importance of understanding NAFLD and establishing a policy for prevention, early detection, and effective therapy…to deal with this common, debilitating, and expensive liver disease."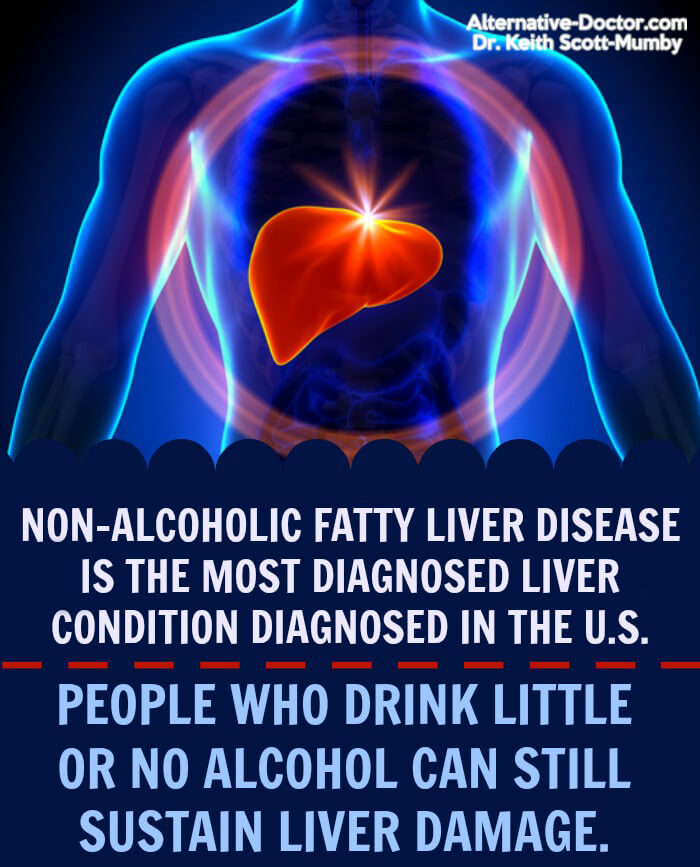 Signs and Symptoms of Fatty Liver Disease
Some of the symptoms are misdiagnosed or unnoticed. Abdominal pain and fatigue (the two most commonly reported signs) are often attributed to other causes or conditions. NAFLD stimulates excessive inflammation that might affect your appetite, cause weight loss, or make you nauseous.
However, until you sustain actual damage to your liver, you may be unaware of an issue. Some patients experience no signs or symptoms that something may be wrong until the situation turns critical. That's why protecting your liver is important at every stage of your life.
At any given time in the United States, more than 17,000 people are on the waiting list for a liver transplant. The modern diet – particularly in developed nations – stimulates diseases. Many of them are preventable and reversible. That includes NAFLD.
Risk Factors for Fatty Liver Disease
Family history of liver disease
Autoimmune disorders
High cholesterol
Diabetes
Persons older than age 50
Obesity
Hepatitis
Poor nutrition
Acetaminophen use (also known as Tylenol)
Fatty Liver Disease Problems Are Deadly
You can stop damage to your liver. You can reverse damage you've already done to your liver. It's all about diet and lifestyle choices. No matter your age, you can make changes right now that improve liver health.
Maintain a healthy body weight.
Get rid of the sugars and unhealthy fats by avoiding processed junk food.
Limit or eliminate alcohol use.
Avoid the use of products containing acetaminophen.
Get regular exercise (even low impact makes a big difference).
Detox your body with a natural liver cleanse.
Control negative cholesterol and triglyceride levels.
Get enough quality sleep.
If you'd like to know more about the detox centers of your body – the liver and kidneys – and how to keep them in tip-top shape, check out my book Love Your Liver right now!
Here's a sneak peek of what you'll find inside:
Learn to understand the function and workings of these two critical organs (liver and kidneys), how to keep them in tip-top health – what to do and why!
Eliminate two major causes of early death global wide.
The #1 threat to your liver (it's not what you think) accounts for over 50% of cirrhosis cases, alcohol is just 5%!
Discover 19 super liver feeding nutrients and why they are important.
Get the top 5 herbal liver supports (and how to make your own in your kitchen).
Find out where the real toxic sources are coming from in your life and how to eliminate them for a longer life with a healthy liver!
Get your copy of Love Your Liver today! The growing epidemic of non-alcoholic fatty liver disease cannot be ignored. Since one-in-four people suffer from NAFLD, the chances are high that you or someone you love already has it.
There's no time to waste. Don't let fatty liver disease problems derail your life and your health. Protect your liver…Love Your Liver.
The post Non-Alcoholic Fatty Liver Disease Problems – A Growing Epidemic appeared first on Dr. Keith Scott-Mumby.