eyeNetra
eyeNetra's invention is a way to measure refractive errors (near or far-sightedness) by combining a simple optical attachment with software on a mobile phone.
With billions of people in the developed and developing worlds alike needing glasses to stand any chance of being able to read, you can imagine the impact on illiteracy, unemployment and poverty. eyeNetra points out that the cost of providing eye glasses is down to $3, but the cost of an eye exam is still far too expensive.
iExaminer
Coincidentally, I read a piece about an even better UK invention, called the iExaminer.
This innovative new hardware and medical apps combination turns the iPhone into a full-on ophthalmoscope! Called the iExaminer, it connects the popular Welch Allyn PanOptic ophthalmoscope to the iPhone 4, and then a native medical app enable an examination of the back of the eye (fundus). What's more, the practitioner can share videos and images with colleagues, right from the iPhone.
This is good for teaching uses, in medical schools. But also great for use in mobile clinics: A physician can screen large numbers of individuals at one time and then review the saved images later, to determine correct treatments.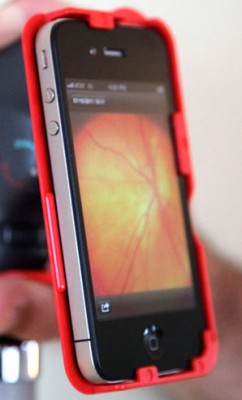 The iExaminer was created by Intuitive Medical Technologies.
Connect with us: Facebook – Twitter – LinkedIn – Google+ and take a look at our videos!
The post Smart Phone Apps For Eye Examinations appeared first on Dr. Keith Scott-Mumby.