Back To I Told 'Em
Again, for newcomers, I should explain that I ran an occasional column in my newsletters entitled "I told 'em!" So many times in my writings and teachings I was saying things years, or even decades, ahead of the pack. Like "earthing" (aka. "grounding") for example. Stephen Sinatra MD claims to have invented it; then Clint Ober in his book Earthing.
In fact, I wrote about it and why it was necessary in a book I wrote published by an imprint of Harper Collins in 1988; that's 20 years before anyone else.
Actually it wouldn't be fair to imply I was the main leader in today's topic, though I went on record in the media often enough, telling the story. The great pioneers were Ted Randolph and William Rea. I'm talking about brain damage due to ambient chemicals.
I was right there, however, in print and on TV back in the early 80s, pointing out how trace chemicals in our environment can damage brain function.
Heck, I had patients who could enter a carpet store and be quite incapacitated mentally before they had been there more than a few minutes (chemicals in color printing, color fast process and flame retardant).
One woman I wrote about would go into a clothing store and before she could find what she wanted, would forget why she was there! She'd buy a pair of panties or something cheap, to cover her embarrassment and then leave. (lots of formaldehyde-based treatments on clothing)
I got bitterly attacked by colleagues for these "made up" nonsensical ideas. Ambient chemicals were "safe" because there was no science proving they were not (most doctors cannot, or will not, think for themselves and want science to tell them what to think).
Yet by the end of the 1990s the UK Chief Medical Officer (equivalent of the US Surgeon General) issues a directive that chemicals could highly sensitize individuals to allergies. It was slow but painful progress.
Anyway, I'm sure you know the old joke about the 4 stages of medical development:
You must be mad (or "It's a fraud").

There might be something in it.

There might be something in it, but where's the proof?

We knew that all along.
Suddenly we are in stage 4 and lots of studies are hammering home what I was criticized for saying over 30 years ago.
Just a couple weeks ago, a new paper in the journal Neurology has shown that intense workplace exposure to chemical solvents may lead to cognitive impairment and what's worse: that doesn't diminish over time.
Could the fact that we are living in what I call the "chemical blizzard" be anything to do with the rising stats of Alzheimer's, not just dietary causes?
I think so.
Researchers tested psychomotor speed, semantic fluency, immediate recall, and executive function in men and found major deficits, even decades after their exposure to solvents had ceased. Up till this, it had been "assumed" (another type of nutty science thinking) that solvents only cause problems in the short and medium term.
Nobody, of course, ever asks the chemical victims.
The lead author, Erika L. Sabbath, ScD, research fellow, Harvard School of Public Health in  Boston, is reported as saying:
"Our study shows that the effects last into retirement, when we know that the person was not exposed anymore, and that if the exposure was high, the effects can last for 30 to 50 years after the last exposure in the workplace."
This was all enabled by striking data from France. Their utility company GAZEL (gaz and electricity) had meticulous records and researchers were able to analyze the cases of 2143 men (average age, 66 years) who had been retired for about 10 years.
In their working lives, the men had significant exposure to chlorinated solvents, petroleum solvents, benzene solvents, and nonbenzene aromatic solvents.
The analysis found that about 33% of the retirees had been exposed to chlorinated solvents, 26% to benzene, and 25% to petroleum solvents.
Twelve percent had been highly exposed to 1 solvent type and 11% to 2 or 3 types.
Eight percent smoked, 14% were heavy drinkers, 14% were obese, 37% had hypertension, and 13% had symptoms of depression.
The figures were adjusted for education, age, level of employment (eg, manager, manual worker), marital status, alcohol and smoking status, disability, depression, and body mass index. Nevertheless, there was a massive correlation between chemical exposure and severity of dementia.
Why am I telling you this, when you don't work for French GAZEL?
Because dementia is one of the two main exits we all fear (cancer is the other). I'm making the point that lifestyle and diet is not enough. You need to be fully aware of the risks of today's toxic chemical overload.
Back in the 1980s it was just special very sensitive individuals. I wrote about the "human canaries"; I introduced the term in my 1986 book Allergies: What Everyone Should Know. Like the canaries down the mines in days of old, the canary acting sick (or dropping dead) was a sign for humans to get out, quickly.
And I wrote the fateful words: "It seems to me we have a lot of human canaries! We must start paying attention to the problem; sooner or later it will make us all sick." Today those words seem prophetically true.
To enjoy a good healthy old age, with all your faculties, you need to do something about chemicals in your environment.
These days I can't say get out of town! I lived briefly in Davis, California, which is a large agricultural community. Vivien and I were constantly troubled by crop spraying and having to dodge down side roads when the planes came over, to avoid getting dumped on with pesticides. After only 8 months we moved.
Last summer, most of you know, we lived in southern France for a couple of months. I would set off cheerfully for a nice long walk among the vineyards and find my way home blocked, because the pesticide spray tractors had started work behind me. I'd have to walk miles extra to get around them or call Viv and have her pick me up and drive through the clouds of chemicals.
IT'S REALLY BAD OUT THERE. The world has gone crazy and is dumping millions of tons of toxic chemicals into the environment.
Don't listen to the propaganda from chemical companies about "responsible use". There is no such thing.
EVERYTHING DUMPED ON THE SOIL IS STILL THERE, ADDED TO THE YEAR BEFORE, AND THE YEAR BEFORE THAT…
It's cumulative. The water table is poisoned for the next 50 – 100 years.
Wow, after that rant I haven't left enough space to give guidance and suggestions. I'd better do that next week. Let's have a part 2.
Meantime, hold your breath… (just kidding!)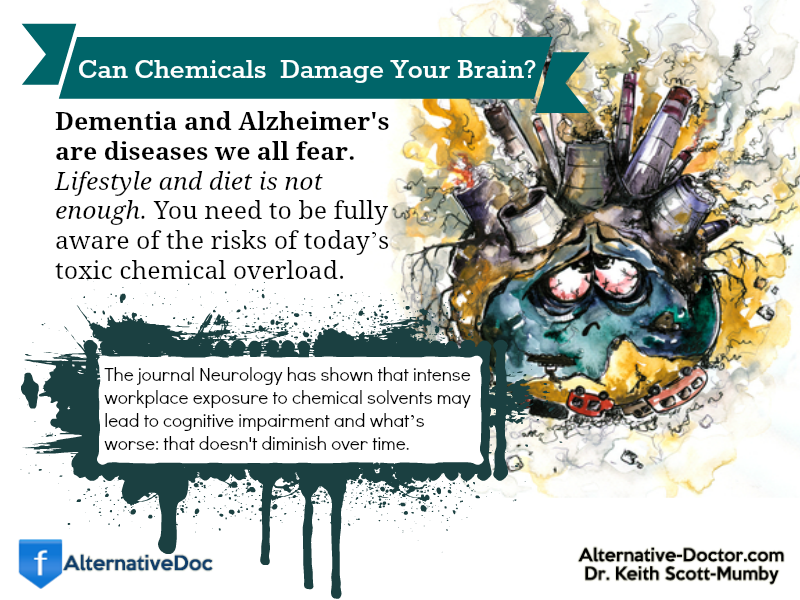 The post What Causes Alzheimer's Disease? appeared first on Dr. Keith Scott-Mumby.