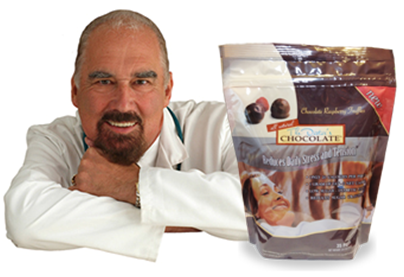 It's been a while since I mentioned this but some of my subscribers will remember I invented what is UNQUESTIONABLY the finest health chocolate in the world!
It's called "The Doctor's Chocolate" and is supplied to the public by True Healthy Products, a very fine ethical company in Florida.
Why is it so special? Lots of reasons.
Tastes brilliant, that's number #1
Only 20 calories a piece. Amazing! That's number #2
Quenches your appetite. You couldn't possible eat too many. That's #3
Uses xylitol as a sweetener. No glycemic effect. That's #4.
Incorporates 200 mg of L-theanine, nature's natural tranquillizer. Kids love it at bed and time and fall asleep; parents find it calms them. That's #5.
People lose weight on it. The record so far is 100 lbs, just by eating chocolate (you kidding? No!) That's #6.
The chocolates are sweetened with xylitol instead of sugar and blended with natural raspberry and fig flavors for a dark chocolate bon bon with a whipped truffle filling that is comparable to high end chocolates, but safe for Diabetic use. The Doctor's Chocolates are appetite suppressants that also provide a gentle calming effect due to the inclusion of L-theanine and are used by many for stress relief.
The Doctor's Chocolate

goes far beyond just using healthy dark chocolate in our formulation of wonderful, all-natural ingredients. Our chocolate is in the form of raspberry/chocolate truffles. There is a tiny bit of natural sugar contained in the natural raspberry flavoring and in the fruit. However, the amount and the glycemic index is so low as to be safe even for diabetics,
Right now True Healthy Products are offering a large discount. Remember, this isn't candy; this is The Doctor's Chocolate, a functional health food. Don't compare it with Hershey's or Mars, either in health qualities or price.
Click this link and learn more:  The Doctor's Chocolate
Enjoy every mouth-watering piece.
Prof.
PS I lost 28 lbs using my designer chocolate as a "hunger stop" (a nibble when I felt a bit hungry). One piece really can kill your appetite. It's so satisfying.
Connect with us: Facebook – Twitter – LinkedIn – Google+ and take a look at our videos!
The post What Every Doctor Should Prescribe! appeared first on Dr. Keith Scott-Mumby.