One of the biggest nerves found in your body is the sciatic nerve. It runs from your lower spine, to your feet, crossing over the buttock. It generates the feeling in your legs and provides both movement and strength.
If you suffer from sciatic nerve pain (sciatica), you know there are few things as disruptive to your daily life. It sends shooting pain through your low back, down into your leg that can make it almost unbearable to sit or stand for any length of time. Experts estimate that 40% of adults will experience sciatica in their lifetime.
The pain can range from mild discomfort to excruciating or sensation of burning or as if you have an electrical current "zapping" through your body. During an attack, it is almost impossible to function and complete simple tasks. Some patients experience muscle weakness, numbness, or tingling as if their limb has fallen asleep.
A flare-up of sciatica can last a few days to several weeks. You do not have to suffer with chronic sciatic nerve pain!
Known Causes of Sciatica
Herniated or slipped disc pressing on a nerve
Bone spurs on the spine caused
Spasm of the piriformis muscle in the buttocks
Pinched nerve inside or outside the spinal canal
Narrowing of the spinal canal (spinal stenosis)
A vertebra that slips out of place, tightening the space for the nerve
(spondylolisthesis)
Most doctors treat patients with a regimen of spinal injections, pharmaceutical drugs (anti-inflammatory and muscle relaxant), followed by physical therapy to strengthen your weight-bearing muscles. Approximately 10-20% of patients will not respond to milder treatments and will have to have surgery performed to remove or repair the disc or vertebra.
Don't ignore sciatic nerve pain. A nerve that is under distress for a long time can become irreparably damaged and lead to mild paralysis and permanent muscle weakness. It can also lead to incontinence of the bowels or bladder over time.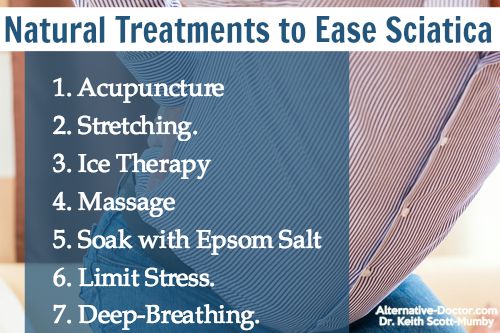 Risk Factors of Sciatica
Age-related deterioration
Occupational stress to the spine or muscles
Sitting for long periods of time
Sedentary lifestyle
Poor posture
Pregnancy
Traumatic injury such as a fall or car accident
Smoking
If you already suffer from the sciatic nerve pain, here are remedies that can ease your discomfort and help you get back to daily life.
Natural Treatments to Ease Sciatica
1. Acupuncture: Fine needles inserted into nerve centers or "hot spots" of your body have helped to ease pain and improve nerve function for many thousands of years. It may take one session or several to get your personal pain under control. It is an excellent option for many forms of chronic pain!
2. Stretching: Carefully stretching your back and legs may help to ease pain, increase blood flow, and improve mobility during a sciatic event. Don't push yourself to agony but try a gentle walk if the pain begins to ease.
3. Ice Therapy: Icing down the area that bothers you most can offer instant relief. 20 minutes every two hours is safe and may be effective enough to get you through a sciatica flare-up. Try alternating between ice packs and a heating pad for additional relief.
4. Massage: A deep tissue massage may help your body to deal with the pain, muscle spasms, and tingling caused by sciatic nerve pain. Adding aromatherapy and essential oils to massage mediums are ways to increase the relaxation benefit.
5. Soak with Epsom Salt: For millennia, Epsom salt has been used to draw toxins from the body and ease muscle pain. This product is readily available in most stores and inexpensive. Fill a tub with water as hot as you can stand, add two cups of salts, and soak for 20 minutes.
6. Limit Stress: It is scientifically proven that stress directly influences your entire body. Too much leads to rampant inflammation. The sciatic nerve is as sensitive to heightened cortisol and inflammation as every other cell. Lower the levels of stress in your life anywhere and everywhere possible. Here are a few simple ways to reduce stress.
7. Practice Deep-Breathing: The act of moving and breathing stimulates the lymphatic system. The healthier your lymph system, the better your entire body is going to feel. This critical process removes toxins, bacteria, and other parasites from all over and works to flush them out. An added bonus is the relaxation of deep breathing and mild meditation. You'll feel refreshed and calmer.
Naturally, the best treatment for sciatica is not to get it in the first place. It is important to exercise caution during physical activity, workouts, or while at work. Learn how to lift properly and don't lift something that is too heavy for one person. Avoid overextending your arms while lifting and hold the object close to your torso.
Be careful with your body, listen to it when it talks to you, and it will return the love well into your eldest age.
The post Natural Remedies for Sciatic Nerve Pain appeared first on Dr. Keith Scott-Mumby.