I don't want to put bad or shocking stories before you and in fact this is NOT a horrible story; it has a great outcome!
But it does concern people who—often through no fault of their own—age very badly and really suffer under care. I know my readers are pretty vibrant and engaged with life to the full (if not, report to my office tomorrow morning!) But this inspiring story may give you something with which to help others, to give them confidence, to help change the stigma of aging and to encourage love and family ties.
This story tells of a lovely French woman, Fiona Lauriol, who rescued her grandmother Dominique, age 101, from a grim old-folks home. The two went off on an unforgettable 18-month camper van road trip around Spain and the old lady grew younger every day. It's a magical tale!
This is Granny, Age 101!
Ms Lauriol has since recounted their adventure in a book: 101 Ans – Mémé part en vadrouille (101 years-old – Granny goes on a trip) which has sold more than 10,000 copies and which still awaits an English translation. I can't wait to read it.
The trip took them to Spain, where Dominique Cavanna, Fiona's then-101-year-old Italian-born grandmother, experienced her first Holy Week, attended her first concert, sang with street artists in Almeria, participated in walking the Camino, basked in hot springs, and went to Portugal. This is after being given one week to live by the incompetent doctors in charge!
"The more we travelled, the more I realized she was coming back to life," said Fiona. Subsequently, Fiona and her parents went on the road again, in a nationwide camper van trip of nursing homes to raise awareness around old age.
The English newspaper Connexion, (for Brits residing in France) asked Fiona a series of questions. Her answers were sometimes breathtaking!
What has the reaction been so far? 
It's very good feedback because it raises awareness and changes people's views of old age. 
Most people think that at a certain age, we no longer have the desire to live and simply wait for death. 
But people still want to live their life to the fullest. 
When I told young people that my grandmother saw her first concert aged 102, they began to see older people differently. 
If we exclude the elderly from our society, what do we expect them to say about us if we leave them staring at an empty wall waiting for the end? 
We are considered old at around 65. 
Let's say someone lives until 105, it means he or she will hear continuously for 40 years that they should be careful in case they break a bone or die. 
This is not how anyone should live. 
This is a reference to your grandmother's own situation, when you spotted her in a room six months after you took her out of a care home… 
When I spotted her watching that wall with such an empty look in her eyes, it gave me the shivers. 
Getting old should not resemble that. 
When we decided to take her on a road trip in a camper van, my parents and I first took her on a 40-day road trip as a test. 
She did not know what a camper van was, and things went horribly wrong. 
She broke her nose near the Lac du Salagou and the operation required stitches. 
When there was a hail storm she thought France was being bombarded again. 
We never saw the Mediterranean coast, nor were we able to visit her native Italy. 
When we came back, I thought she would have never wanted to go through that experience again. 
Next morning, she told us: "Ok, I have slept enough. When do we start again?" 
When you look at the photos from the start of the trip, she is hunchbacked and knocked out by the medication. 
She was struggling to stand on her legs and had lost fifteen kilos. 
As the journey went on she looked younger.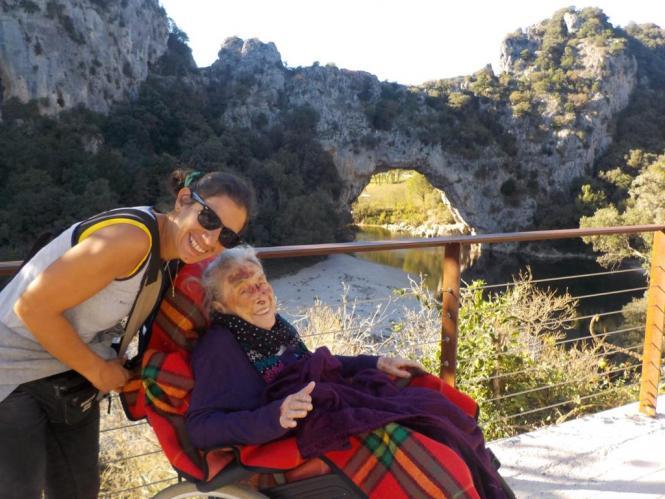 Granddaughter and Grandma
When people ask me what the miracle cure is, I tell them it's having a perspective of the future. 
Every day was different and the unexpected was part of the journey. 
It took six months to get her back on her feet and six months to be able to leave in a camper van. 
Over the first two weeks, I wondered what I had got myself into. 
But with a lot of love and patience, you can do so much. 
What is your take on health professionals after she defied the official diagnosis for her life expectancy? 
My opinion is that beyond a certain age, professionals are no longer interested. 
You are told that you are old, that's it. 
I think the diagnosis indirectly takes into consideration the environment she lived in. If I had not taken her out of the care home, she probably would have died within a week. 
I think overprotection is the second reason. 
The doctor advised me that if she died in my car, I would bear responsibility. 
But I thought since she had one week left, my risk was very low. 
So you think this overprotection is what leads them inevitably towards… Death. 
The elderly are excluded from society, treated as useless and spoken to like babies. 
We do not like our parents to speak to us in that way, but this is exactly what we do to them when they reach old age. 
One nursing home told us about a 97-year-old lady whose children refused to let her take the hot-air balloon trip she always dreamed of because it was 'too dangerous', but who asked her nevertheless to take a flight to Nice to visit them during the summer. (Laughs) That's the irony of it. 
I am fighting this attitude to give the elderly back their place in society, after having more or less excluded them, or implied that they were useless. 
Are you the proof that hope springs eternal? 
I think so. 
I was criticized for having kept up hope, but it may be the combination of hope, love, patience and the desire to live life to the full that allowed her to die peacefully. 
You should have seen her face when she went for that eternal sleep. We should all go like that. 
She looked like she was having a great dream. 
This contrasted with my other grandmother, who died of Charcot's disease and who suffered a martyr's death by enduring intensive medication despite the fact that no treatment exists. 
My book makes people dream, but once they have read the last page, they will move on. 
The only way to change people's views is to go out into the field and convince them that there is not just one way, that we have to give our time and put humanity back into our society. 
We need this because not everyone can go away in a camper van or look after their parents and grandparents. 
People want more humanity and communication. 
We need more volunteers and more openness to the outside world. 
This is a subject that affects the whole of society. It is not a religious or political issue.
Amen, nevertheless Fiona!
To Your Good Health,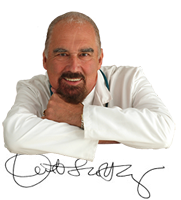 Prof. Keith Scott-Mumby
The Official Alternative Doctor 
The post Never Too Old To Have Fun! appeared first on Dr. Keith Scott-Mumby.